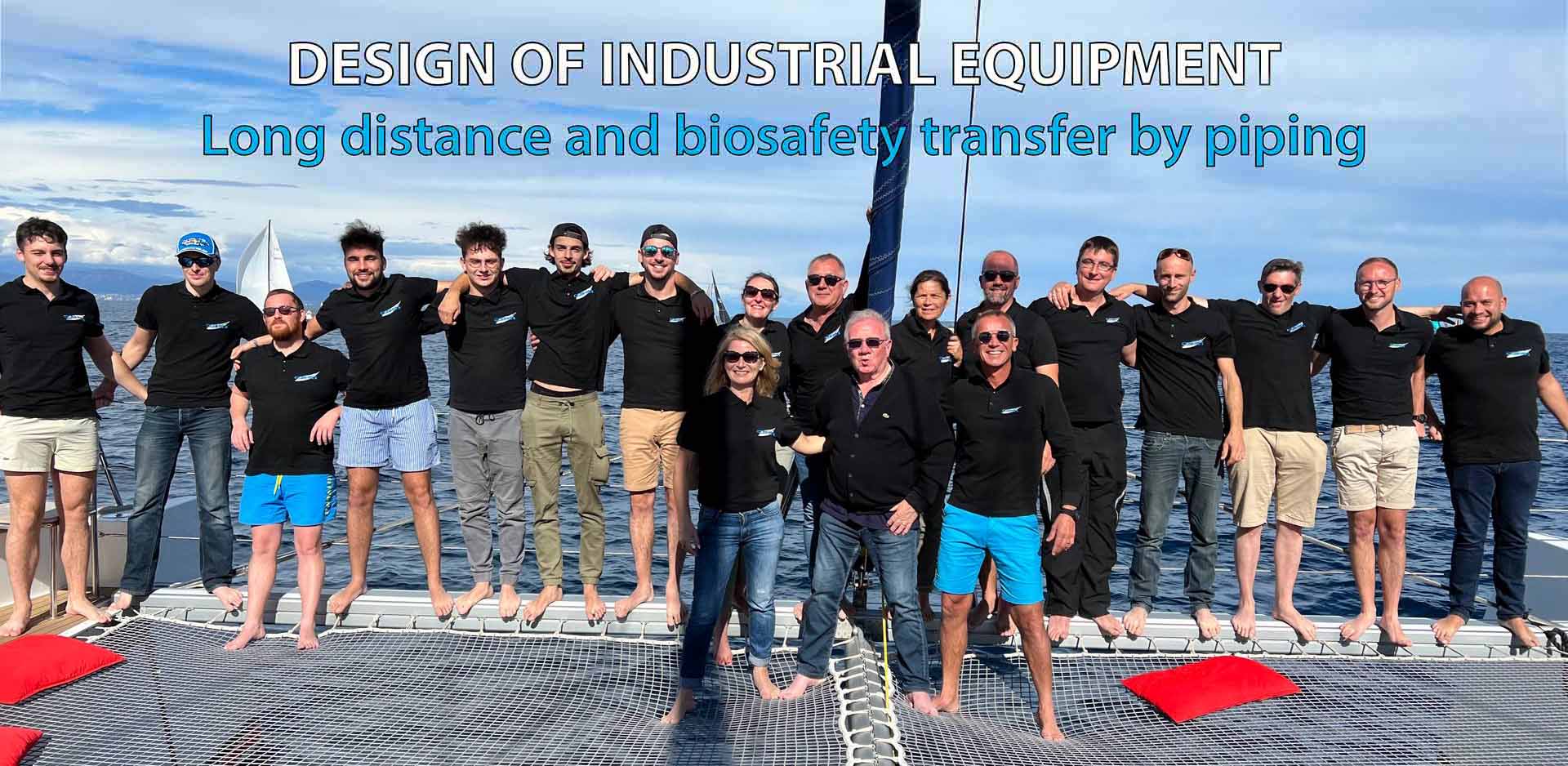 GMMI YOUR DESIGNER OF INDUSTRIAL EQUIPMENT IN FRANCE AND ABROAD
GMMI – INDUSTRIAL TECHNIQUE FOR THE TRANSFER OF YOUR SOLID AND LIQUID PRODUCTS BY PIPING
La biosecurity of food factories has become a major issue in the case of complicated and sensitive products.
Transfer specialist in compliance with IAA standards, for the transfer of products by piping over 100 meters, its know-how is exported to Thailand, Turkey, Australia, Mexico, Costa Rica, Switzerland, Belgium, USA, …
Thanks to its highly innovative technology, GMMI offers transfer systems by piping less energy, more powerful, more hygienic and much less noisy.
GMMI offers with its transport systems an ideal solution in terms of cleaning and hygiene: its high-performance conveying equipment eliminate ground handling, the risk of accidents and avoid any risk of cross-contamination.
GMMI handles all design and implementation phases, from drawing up specifications to final commissioning.
GMMI is based in La Motte, in the Côtes d'Armor (department 22) in Brittany (France).
We master many skills that our account managers, engineers and technicians use:
Engineering
Automation
Mechanical
Boilerwork
Piping
Industrial maintenance
Our design office carries out 2D or 3D plans, material resistance calculations, energy calculations, simulations or presentations of virtual projects.
The customer is at the center of our project and all our studies are individualized.
Specialized in the transfer of product by piping for 25 years in the fields:
Food industry (IAA).
Fish industry
Powder industry
Poultry industry
Prepared meals industry
Industry Ingredients & PAI
Pet-food industry
Pharmaceutical industry.
Other industries.
We were constantly going improved productivity and safety. Ergonomics and performance are our priorities.
All the technicians of the GMMI team regularly update their skills and certifications in welding, driving lifting and handling equipment, and safety conditions.
AN INNOVATIVE SYSTEM COMPARED WITH VACUUM PUMP TECHNOLOGY AND ALL SUCTION SYSTEMS
Fully automated
Simultaneous transfer steps
7 times more powerful than vacuum technology
Unlimited transfer distance thanks to its "sonic effect" technology
Allows horizontal as well as vertical transfer
Versatile, it allows automated handling of a wide range of products
Hygiene, safety, reliability
Avoids manual transport of delicate materials in risky production rooms
Fully washable system in automatic mode
Very robust, no special maintenance
A KNOW-HOW RECOGNIZED AROUND THE WORLD
France, Turkey, Thailand, Australia, Mexico, Costa Rica, Switzerland, Belgium, USA, …